Claim: Frail old man in a viral picture is Cameroonian President campaigning for reelection
 Source: Viral Image
 Verdict: FALSE
 Researched by Rabiu Alhassan
A picture showing an old man who is being helped to stand on his feet is being widely shared on social media and portrayed as showing Cameroonian President Paul Biya being assisted by two other men to a podium to campaign for reelection.
The image which has been sighted on Facebook (here, here, here and here) and Twitter (here, here, here and here) comes with a caption that says: "Madness in Africa! Paul Biya President of Cameroon being led to the podium for his campaign for the upcoming elections! He is 88yrs !"
𝙎𝙘𝙧𝙚𝙚𝙣𝙨𝙝𝙤𝙩 𝙤𝙛 𝙖 𝙁𝙖𝙘𝙚𝙗𝙤𝙤𝙠 𝙥𝙤𝙨𝙩
So, this fact-check report will seek to verify:
Whether the frail old man in the viral picture is indeed the Cameroonian President?
Whether Paul Biya is currently campaigning for reelection?
Fact-Check
Using Google Images, GhanaFact conducted a comprehensive image search on the web and found the image has been circulating online since 2018 and has featured in news stories by some news portals (here, here and here).
However, the frail old man in the viral image is not Cameroonian President Paul Biya. "No, that is not Paul Biya." A Deutsche Welle journalist from Cameroon, Mimi Mefo told GhanaFact after assessing the viral picture.
According to an Associate Professor of Journalism Studies at Aarhus University in Denmark, Dr Teke Ngomba, "the old man in the middle being held is Kadji Defosso– he was one of the wealthiest men in Cameroon." But the business tycoon and industrialists died in 2018 at 95.
"The other guy with the sash of the Cameroonian flag- was also one of the wealthiest men in Cameroon in addition to being a Mayor – Fotso Victor. He died recently too." Dr Teke Ngomba whose Ph.D. research focused on analysing political campaign communication processes and changes in contemporary Cameroon told GhanaFact.
𝙏𝙝𝙚 𝙫𝙞𝙧𝙖𝙡 𝙥𝙞𝙘𝙩𝙪𝙧𝙚 𝙨𝙝𝙖𝙧𝙚𝙙 𝙞𝙣 2018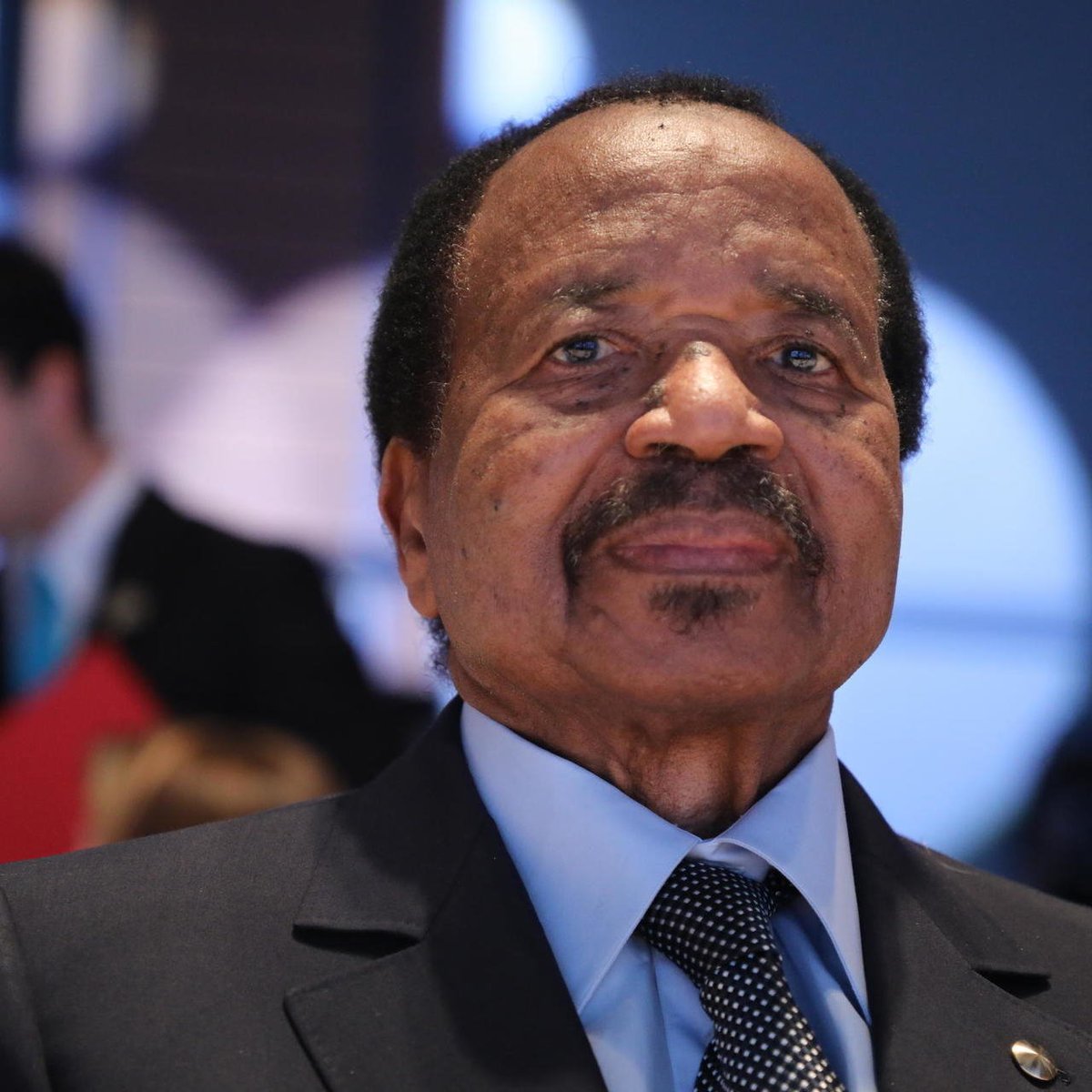 Elections in Cameroon
Yes. Cameroonian President, Paul Biya is 88 years, and one of the oldest and longest-serving leaders in the world, after holding a tight grip on power in the central African country for 38 years. However, he is not currently campaigning for reelection because the country's last presidential election was in 2018 and the results were declared in his favour – seventh term in office- which is to end in 2025.
In December 2020, Cameroon held its first regional elections which saw the ruling party win a landslide victory, winning nine of the country's 10 administrative regions.
Meanwhile, there is an ongoing civil war in Cameroon, mostly in the Anglophone regions started in 2017 after government security forces used lethal force to put down a peaceful protest against perceived marginalisation by the country's majority Francophone government.
Verdict
The two claims are FALSE.