Claim: Toyota is giving away cars and gifts as part of its 80th-anniversary celebration
Source: Widely shared link
Verdict: HOAX
Researched by Rabiu Alhassan
A link being circulated on social media claims multinational automotive manufacturer, Toyota is giving away cars and gifts as part of its 80th-anniversary celebration.
The link which shows the brand logo of Toyota comes with the title "Toyota 80th Anniversary Celebration. Free Gifts for everyone!"

The correct Uniform Resource Locator (URL) of the Japanese company (www.toyota.com) is also deceptively displayed to attract the unsuspecting public, even though a click on the link takes users to a completely different unsecured website.

What happens when you click on the link?
A click on the link takes one to a cloned page of Toyota, encouraging gullible users to answer a set of four questions before you can get to claim your prize- "Toyota Corolla".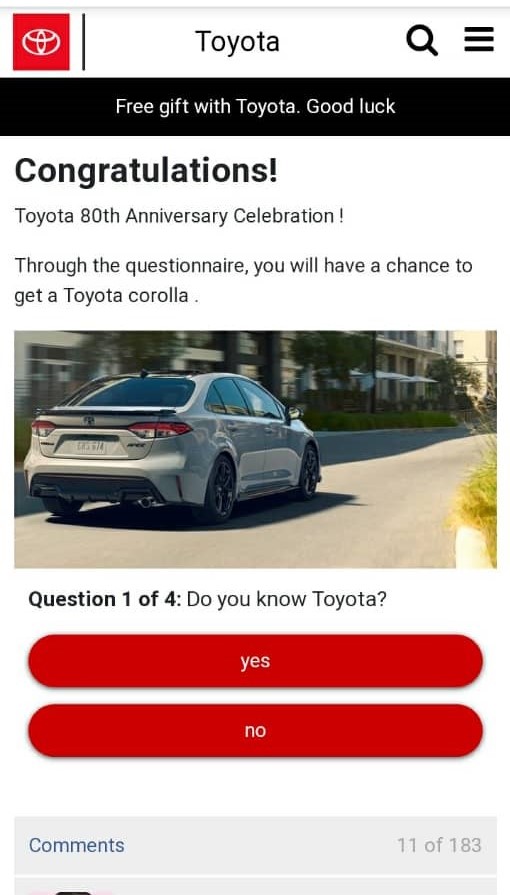 After completing the set of questions, users are then encouraged to share the link in 5 WhatsApp groups or 20 friends on the WhatsApp messaging platform by clicking on a button.

For oblivious users hoping to redeem gifts, the actors behind the spam link seem to be mining their Internet Protocol (IP) addresses and a notice is sent saying: "Your IP address is valid for this promotion."

Is Toyota celebrating its 80th anniversary?
Toyota was founded and incorporated in August 1937, which means the company is currently 83 years and not 80 years as being circulated in the link. The automotive company celebrated its 80th anniversary in 2017.
Happy Birthday 🎂 #Toyota! 80 years and counting. Celebrating with a big THANK YOU to everyone who helps to make it possible every day. pic.twitter.com/DjKeAOGTCX

— Toyota Motor Corp. (@ToyotaMotorCorp) August 28, 2017
Fact-Check
The authorized distributors of Toyota Motor Corporation's (TMC) products and services in Ghana, Toyota Ghana Company Limited has dismissed as FALSE the claims being made.
"We are directly linked to our manufacturers TMC and whatever global activity is ongoing we would be informed and run the campaign globally and we've had no such notice of a global campaign." The Product Marketing and Research Officer at Toyota Ghana Company Limited, Charles Aglago told GhanaFact.
A disclaimer notice issued by Toyota Ghana Company Limited (TGCL) also warns the credulous public not to open the link because they are unsure about the intent of the actors behind the spam link. "We therefore advice the public to be cautious as they open this link since TGCL is not responsible for the content in the link."

Verdict
The website with branding like automotive manufacturer, Toyota claiming to be giving away cars and gifts as part of the company's 80th-anniversary celebration is FAKE.